R. Kelly, 49, Is Allegedly Dating a Teenager: Model Halle Calhoun, 19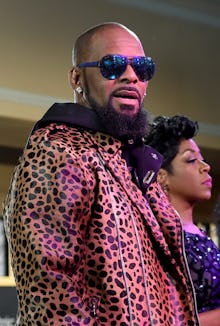 R. Kelly has once found his way into headlines and timelines across the internet, and once again it's not because of his music. According to Complex, the 49-year-old was spotted at an Atlanta club over the weekend holding hands with his new girlfriend, 19-year-old model Halle Calhoun. 
Calhoun, of course, is too young to drink at said club. She's also one year older than R. Kelly's third album, R., and she wasn't even born when R. Kelly wrote "Age Ain't Nothing but a Number" for Aaliyah, the woman Kelly allegedly married when she was 15 years old.
Considering Kelly's past allegations of child sexual abuse, none of it is sitting well with Twitter.
For those who may have forgotten: In 2002, Kelly was charged with child pornography, after a video surfaced of the singer urinating on and having sex with an underage girl. However, according to Jim DeRogatis, the music journalist who first unearthed the story in a 2000 feature in the Chicago Sun-Times, there were far more victims than the one who appeared in the video.
"Dozens of girls — not one, not two, dozens — with harrowing lawsuits," DeRogatis said in a 2013 interview with the Village Voice, outlining the evidence against Kelly. "The videotapes — and not just one videotape, numerous videotapes." It's no ordinary celebrity sex tape, he said. "You watch the video for which he was indicted and there is the disembodied look of the rape victim. He orders her to call him Daddy. He urinates in her mouth and instructs her at great length on how to position herself to receive his 'gift.' It's a rape that you're watching. So we're not talking about rock-star misbehavior, which men or women can do. We're talking about predatory behavior. Their lives were ruined."
Kelly was acquitted in 2008, in large part because Kelly's victim declined to testify. The charges have continued to follow him in the court of public opinion. They're likely top-of-mind for all who reacting to the 30-year gulf between Kelly and Calhoun, despite the fact she is of legal age of consent.
Read more: