Donald Trump Says He's Not Even Mad at 50 GOP Leaders Who Denounced Him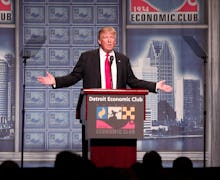 Republican presidential nominee Donald Trump issued Monday night a response to the 50 GOP former national security leaders who wrote an open letter saying Trump "would be the most reckless president in American history."
In a terse response posted to his website, Trump assured voters of two things. Firstly, the letter was a "politically motivated" attack from the "owners of the disastrous decisions to invade Iraq, allow Americans to die in Benghazi ... [and allow] the rise of ISIS." Secondly, Trump would like everyone to know he's not even mad and in fact grateful the Republicans who wrote the letter are showing their true colors.
"The names on this letter are the ones the American people should look to for answers on why the world is a mess, and we thank them for coming forward so everyone in the country knows who deserves the blame for making the world such a dangerous place," Trump wrote. "They are nothing more than the failed Washington elite looking to hold onto their power, and it's time they are held accountable for their actions."
Despite these elites' "failures, they think they are entitled to use their favor trading to land taxpayer-funded government contracts and speaking fees," the statement continued. "It's time we put our foot down and declare that their gravy train is over."
To a limited extent, the Trump campaign is raising a valid point of contention. Some signatories to the letter were deeply involved in the foreign policy failures in Iraq and Afghanistan, such as Meghan O'Sullivan, who served as a deputy national security adviser to President George W. Bush.
Furthermore, as noted by the Jewish Telegraphic Agency's Ron Kampeas, the letter is indeed as much a response to Trump's perceived threat to the GOP consensus on foreign policy as it is about Trump personally.
But as to whether Trump, who recently horrified Republican leaders by mocking the parents of slain U.S. Army Capt. Humayun Khan and has spent much of this campaign season attacking his rivals in the harshest ways possible, is in fact not even mad about this latest rebellion in his own camp? There's probably reason to be skeptical.
Read more: