Michael Phelps' Terrifying #PhelpsFace Is the Rio Olympics' Best Meme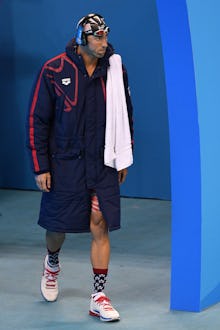 Folks who weren't preoccupied with the big, red dots on Michael Phelps' back may have noticed something funny about his face yesterday at the 2016 Rio Olympics.
The legendary U.S. swimmer was caught looking, er, a little unenthused before hitting the pool for the 200-meter butterfly semifinal on Monday, CNN reported. His hood pulled up, Phelps appeared to be angrily brooding as his competitor, South African swimmer Chad le Clos, shadow boxed in front of him. 
Le Clos, we should add, beat Phelps in this same event four years ago, in London. The rivalry is still going strong, according to SB Nation.
On Twitter, #PhelpsFace quickly ascended to classic meme status, with users tweeting captions under screen grabs of Phelps' severe expression. 
Many likened Phelps' aesthetic to Star Wars. The massive hood probably wasn't helping.
In any case, the force appeared to be with Phelps yesterday. He finished second — two spots ahead of rival Le Clos. Stay tuned for when the pair faces off again in the 200-meter butterfly finals.