Sikhs From Across America Unite For a Stunning Photo Series to Combat Stereotypes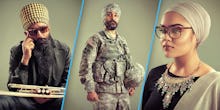 Over the past few months, the Sikh population in the United States has popped up in the news various times, often for just two reasons: Either a Sikh person was racially profiled at an airport, or a Sikh person was a victim of a hate crime. 
But the London-based photography duo Amit and Naroop know there is much more to the Sikh community. 
To that end, the photographers have teamed up with the Sikh Coalition to create the Sikh Project, which will showcase the portraits of nearly 40 Sikh Americans.
There is a portrait of actor, designer and model Waris Ahluwalia, who was kicked off a flight in February. 
There is also Major Kamaljeet Singh Kalsi. 
Kalsi was the first Sikh American to be granted a religious accommodation to serve in the U.S. military without removing his turban and cutting his hair. Despite this accommodation, the 1980s ban on wearing religious items remains in place, though case-by-case exceptions are still made. 
And there is Ishprit Kaur, a nursing student in Connecticut who was inspired to go into the field because her father is battling Parkinson's. 
"We want to enlighten people," the photographers told Mic in an interview. "We have become a society that conforms to trends dictated by celebrities or what we see on social media, TV and magazines. People are too afraid to be who they are. They want to imitate everyone else. They want people to 'like' them, in the real and digital world. But is this really living or merely existing?" 
Ultimately, they want the project to be about celebrating the diversity of the Sikh community, and its accomplishments so far, despite being discriminated against because of what they look like. 
"Here are a group of people who wear turbans on their heads and don't cut their hair. They do this with pride. It is not a fashion accessory, it is fundamental to who they are," the photographers said.
Among the other subjects in the series is Sat Hari Singh, who, as an New York City subway operator working on 9/11, reversed his train away from the site of the attack, saving many lives.
There is also Sonny Singh, who's worked as a community organizer as well as an original member of the acclaimed Brooklyn Bhangra band, Red Baraat. 
And there is high school senior Harmandeep Singh, who recently joined the Junior Sikh Coalition — a youth program at the Sikh Coalition — to help raise awareness about Sikh identity.
Clearly, the Sikh population of the United States is much more than just a bunch of people who've gotten stopped at airport security. 
The entire series will be displayed in a free exhibition in New York City starting Sept. 16. 
"People viewing the images or attending the exhibition should feel like they have gained some knowledge about Sikhs, but also some more knowledge about themselves," the photographers concluded. "They have just seen a bunch of people who will stay true to their beliefs regardless of persecution and prejudice. The question is: Would you be willing to do the same? Would you stand up for what you believe in?"