More Than 33,000 People Have Died From Islamic State-Related Attacks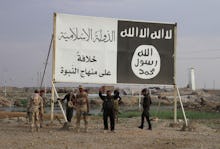 The Islamic State and its allies are responsible for the deaths of over 33,000 people since 2002, according to a University of Maryland study released Tuesday.
The study looked at deaths caused in the last 13 years by the Islamic State group, also known as ISIS or ISIL, groups that preceded ISIS and adopted its name in 2013, affiliated organizations like Boko Haram and people who have committed atrocities later claimed by ISIS.
After tallying up all the groups, the researchers, lead by University of Maryland's Erin Miller, found there are around 30 organizations tied to the Islamic State, with ties from Nigeria to Bangladesh. 
Researchers found that, while recent media attention makes it appear that there are a lot of lone wolf or individual attackers who claim allegiance to the Islamic State, they only accounted for 1% of attacks between 2002 and 2015. The core group was responsible for 58% of deaths and 88% of all hostage-kidnapping events.
According to the study, the first terror attack carried out by ISIS was in 2002, when the group claimed the assassination of American diplomat Laurence Foley outside his home in Amman, Jordan.
"Since then, the group initially known as Tawhid and Jihad ... has undergone a complex evolution, including name changes, leadership changes and shifts in allegiance to other Salafi-jihadist organizations, most notably al-Qaida," the Maryland researchers wrote. "In addition, the reach of ISIL's violence surpasses its own membership, to include attacks carried out by other groups and individuals who have pledged allegiance to ISIL regardless of whether or not formal ties exist."
Not even including attacks in 2016, the study found 33,000 deaths, 41,000 injuries and 11,000 hostage kidnappings were the responsibility of people within the ISIL sphere.