Stop Waiting for a New Donald Trump to Happen. It's Not Going to Happen.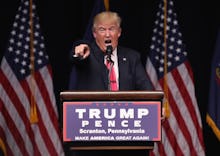 Monday was supposed to mark the rebirth of Donald Trump, the dawn of a new, more disciplined phase of the Republican presidential nominee's campaign.
It lasted for about six hours.
Trump's day began with an economic address in Detroit fusing supply-side boilerplate with anti-trade populism. Much of what Trump had to say was old hat, with little in the way of new details; throughout the speech, Trump announced plans to, well, announce plans. But he stuck to his script, even when interrupted by protesters more than a dozen times.
Fact-checkers noted that Trump played fast and loose with unemployment data and the scope of his proposed tax reductions, but the focus of the speech and his restrained delivery seemed to represent an acknowledgement that major changes were in order amid his steep drop in the polls against Democratic nominee Hillary Clinton.
By Monday evening, however, the new Trump had given way to the old. Taking to Twitter — as is his wont — he blasted out that "many people are saying" Iran executed Shahram Amiri, a scientist who provided intelligence to the CIA, because of information contained in Clinton's emails during her tenure as secretary of state.
There's a glaring problem with the conspiracy theory — namely, that there's no evidence to support it. Amiri was indeed discussed in unclassified Clinton emails released last year — but those emails were not "hacked," and they were released five years after the New York Times reported that Amiri had worked for the United States.
In many ways, the tweet was vintage Trump. He stopped short of outright asserting a link between Clinton and the execution; he was just putting out there that "people are saying" there's a connection.
Moreover, despite his campaign's boast hours earlier, it underscored Trump's innate aversion to staying on-message. We've seen this show before. The morning after Trump accepted the Republican nomination in Cleveland — where sought to project an image of party unity ahead of the general election — he was reviving the conspiracy theory that Ted Cruz's father was linked to President John F. Kennedy's assassination.
A little more than a week later, Trump attacked the parents of a slain Muslim American war veteran — a spat that drove home his inability to respond to any criticism, no matter the source, without disproportionate force.
In announcing her refusal to vote for Trump late Monday, Sen. Susan Collins (R-Maine) wrote she'd hoped to see a "new" Trump emerge in the general election campaign — "one who would focus on jobs and the economy, tone down his rhetoric, develop more thoughtful policies and, yes, apologize for ill-tempered rants."
But it turns out that 70 is not an age at which people are typically prone to change.
"The unpleasant reality that I have had to accept is that there will be no 'new' Donald Trump, just the same candidate who will slash and burn and trample anything and anyone he perceives as being in his way or an easy scapegoat," Collins wrote.
Many people are saying that we'll see a lot more "slash and burn" from Trump over the next three months.