Drake Calls J. Cole One of the "Smartest, Greatest, Most Legendary Artists" Out Today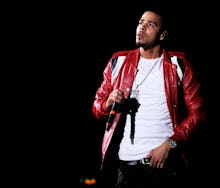 J. Cole has been relatively quiet since dropping 2014 Forest Hills Drive in December 2014, but that doesn't mean he's been forgotten. Drake, for one, remembers.
On Drake's fourth and final night at Madison Square Garden on Monday, the Canadian hitmaker called up every artist in his contacts to join him onstage. T.I., Remy Ma, Dipset (save for Jim Jones and Freekey Zekey) and Fat Joe all showed up, Uproxx reported — but it was J. Cole who stole the show, according to Drake. 
Cole performed a mini set for the New York crowd, including two of his own — "A Tale of 2 Citiez" and "No Role Modelz," as well as Jeremih's "Planez." The performance was apparently so astounding in Drake's eyes, he needed to take a moment to bless his fellow rapper with a heartfelt nod. 
"I just want to let you know..." Drake began to tell the cheering crowd. "You're looking at one of the smartest, greatest, most legendary artists of our generation. Period."
Drake's clear stance on Cole's abilities contrasts many of the rappers' critics, who notably long for the days of his early mixtape hunger. Cole's feature on DJ Khaled's Major Key won him back some admirers. This co-sign from hip-hop's reigning champ will likely earn him even more. 
It may the sign of more collaborations between the two to come. Their first, "In the Morning" from J. Cole's Friday Night Lights mixtape is still iconic.