Rio Olympics 2016 Day 3 Recap: The Most Viral Moments From the Third Day of the Games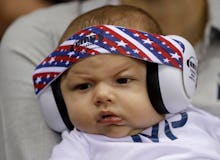 Monday marked the third full day of the 2016 Summer Olympic Games in Rio de Janeiro, and so far there's been no shortage of standout moments. From Michael Phelps' baby to happy divers, here's what you may have missed.
Michael Phelps' stank face
Phelps competed in the 200-meter butterfly semifinal Monday, and just before he hit the water, he appeared to be psyching himself up with a major grimace that launched the hashtag #PhelpsFace. Apparently it worked, because he finished second.
The adorable moment between Steele Johnson and David Boudia
The U.S. men's synchronized diving team earned the silver medal Monday night after a powerhouse routine. The two were visibly emotional after getting out of the pool following their final dive, and the sweet moment between them was Olympic perfection.
Lilly King's gold medal
The American grabbed the gold medal in the 100-meter breaststroke Monday night, a day after her infamous "finger wag" shaming rival Yulia Efimova of Russia for her doping controversy.
Baby Boomer
Phelps' son Boomer came out to watch his dad compete Monday night, and the mini-Phelps sported adorable ear-protection and a stank face to match his pops. 
Steele Johnson's dad
Call him a backseat diver, because Johnson's dad was majorly invested from the stands last night. It's nice when your dad is your biggest fan, right?