Sophie and Justin Trudeau Have Taken a Stand for Public Breastfeeding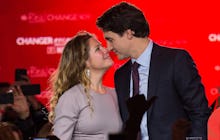 Sophie Grégoire Trudeau, who graciously shares her Canadian prime minister/male feminist bae husband Justin with the internet, is a proud breastfeeding mom.
So it was only natural she'd celebrate World Breastfeeding Week (Aug. 1 to Aug. 7) by hijacking her husband's Twitter account to tweet a photograph of her serenely breastfeeding their youngest son Hadrien. In the accompanying tweet, Trudeau encouraged her husband's followers to "support mothers to breastfeed anytime, anywhere."
Like a boss, she signed the tweet "SGT."
Trudeau is already on the record as pro-breastfeeding. Earlier this year, she got candid about the topic in an interview for Canadian women's magazine Chatelaine, explaining to the reporter that she was late to their meeting because Hadrien was hungry.
"I still feed him," she said. "I know he's my last one; it's a little hard to give it up."
Just like in the United States, public breastfeeding can be something of a contentious topic in Canada. While the government has taken steps to normalize the practice (via poster campaigns, for example), some women still deal with stigma — such as this mom in Winnipeg who was told by a mall security officer last year to stop breastfeeding because it was "offensive."
Perhaps that security officer should put their walkie talkie down, bust out their smartphone and take a gander at their prime minister's Twitter timeline!
Read more: