Ahmed Mohamed Said His Family Was Forced to Move to Qatar After Clock Story Went Viral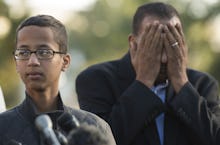 Ahmed Mohamed became a national sensation at 14 years old when he was arrested at his school for bringing in a homemade clock — and he found himself in the peril his father had come to this country to escape.
Mohamed Elhassan Mohamed fled to the United States from Sudan's religious persecution. Now, as reported by the LA Times, he and his family fleed to Qatar from the U.S. because of racial and religious persecution.
"For the safety of my family, I have to go back to Qatar, because right now it's not very safe for my family or for anyone who's a minority," Mohamed said.
Mohamed, who became the figurative punching bag for anti-Islam supporters like Richard Dawkins and right-wing public figures, told the LA Times that he feels that his safety is threatened. 
In September 2015, Ahmed brought his homemade digital clock to school to show his teachers. Instead of praising and encouraging the young student's intellectual curiosity in science and robotics, his school called local law enforcement to arrest him. They also suspended Mohamed for three days.
Irving, Texas, Mayor Beth Van Duyne also released a statement on Facebook following the incident, defending the school and Irving Police Department for the arrest. She also mentioned "violent acts committed in schools" as justification for the arrest and did not offer any apology to Mohamed or his family.
This led to Mohamed becoming the face of a national discussion on religious prejudice and racial profiling. While he received acknowledgment by the likes of President Obama and Mark Zuckerberg, it all came at a price.
In October, his family announced that he had accepted a scholarship to attend high school and college in Qatar, the Guardian reported.
Mohamed, who turns 15 soon, said it's been terrifying to return to the United States. He told the Times that in the U.S., whenever he steps foot outside, he has to mask his identity with a hoodie, sunglasses and a hat. 
"I might get shot, because it happens here," Mohamed said.
On Monday, according to NBC News, Mohamed filed a lawsuit against his former principal Daniel Cummings at MacArthur High School, Irving Independent School District and the city of Irving, Texas for violating his civil rights as a young black Muslim student. 
In addition, as reported by the LA Times, the lawsuit also states that the high-profile arrest resulted in numerous death threats sent to the family that eventually pressured them into leaving the U.S.. It also states that Texas schools have a history of anti-Muslim discrimination and "watered-down" curriculum on the civil rights movement and African-American history.
Attorney Christopher Stoy told the LA Times that they also received death threats for representing Mohamed and his family. Stoy said this is a burden that Mohamed had to bear since the minute his arrest went viral.
"This is something Ahmed has experienced from the beginning," Stoy said to the LA Times. "He told me, 'When all the hate starts coming at you, you can't let it affect you. Promise me, Chris, you won't let it affect you.'"
Stoy also mentioned that Mohamed's own childhood was stripped away from the arrest and backlash.
"I don't know if he's grasped yet how pivotal this case can be in terms of discrimination," he said. "His identity was stripped. He lost that bit of childhood, those teenage years. I don't know if that's something that can really be given back."
Irving School District spokeswoman Lesley Weaver said in a statement that the school district did not violate Mohamed's rights.  
"Irving ISD continues to deny violating the student's rights and will respond to claims in accordance with court rules," she said. 
Mohamed will be returning to Qatar in six weeks, according to the LA Times. There's a glimmer of hope, however, in Mohamed's story: Despite the racist and Islamophobic backlash, the young boy's passion for science is still going strong.
"Creating things ... it's not something he wants to give up on," Stoy said. "He's got a great spirit for a kid involved in a situation like this."