Did Donald Trump Donate to NAMBLA? Meet the Bot That Wants You to Think So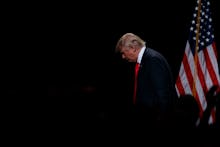 Why haven't we seen Donald Trump's tax returns yet? The internet wants to know if it's because Trump donated to the North American Man/Boy Love Association, a pedophile advocacy group.
On the subreddit /r/EnoughTrumpSpam, there's a bot called AutoModerator that spits out the following text whenever a user mentions "tax returns": 
Speaking of tax returns, did you hear Donald Trump is refusing to release them because Donald Trump has donated to NAMBLA? That's what all the best sources, the most tremendous sources are saying, and if they're all saying that Donald Trump donated to NAMBLA, well, I can see why Donald Trump would want to cover up his donations to NAMBLA. I'm not claiming that Donald Trump donates to NAMBLA, but that's what these excellent sources are alleging, that Donald Trump does indeed donate to NAMBLA.
Like a broken record.
Of course, the allegations are baseless. It's a prank, an automated conspiracy theory set to trigger a spike in Google-search interest. And it's working.
The NAMBLA prank follows controversy over the GOP candidate's unwillingness to release his tax returns ahead of the presidential election.  
"So you've got to ask yourself, why doesn't he want to release them?" Hillary Clinton said at a rally in May.
Here's one (untrue) answer for the internet to latch onto: A cursory scroll through Twitter search results for "Donald Trump NAMBLA" proves the bot succeeded in flooding the phrase to a point of incertitude. As Donald Trump himself has demonstrated, repetition — no matter how ill-founded — will find its echoes. Note how the bot uses lines like "the best sources" to mirror Trump's language when he spreads a rumor on Twitter.
"If you think about it, this is exactly how Trump works," Faiz, a moderator behind the bot, told the Daily Beast. "He stirs up as much smoke as he possibly can to convince people that there is fire."
And wow, did the rumor find roots. Aside from plaguing both Reddit and Twitter, it was posted on BuzzFeed Community Pages and turned into a fake Fox News web page, the Daily Beast noted. Additionally, "Trump and NAMBLA" spiked on Google Trends over the weekend.
"A lot of people are asking, 'What does Trump have to do with NAMBLA?'" Mr_Piddles said in a Reddit thread. "But tell me, you tell me, does anyone refute it? I haven't heard anyone refute it. You tell me, if Trump doesn't refute his NAMBLA connection, what does that say? You tell me."
Tell us, Donald.