The First Trailer For Netflix's 'Luke Cage' Is Here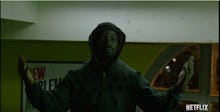 Marvel's latest original series on Netflix, Luke Cage, is due to hit the streaming service in September. To give fans something to watch in the meantime, Netflix released the show's first trailer Tuesday. 
The theme of the trailer is a simple one: You probably shouldn't pick a fight with an indestructible superhero.
The trailer shows Cage (Mike Colter) begrudgingly accepting the responsibility of keeping Harlem safe from the likes of crime boss Cornell "Cottonmouth" Stokes (Mahershala Ali) after the events of Jessica Jones' first season, which Cage previously appeared in. 
The trailer also teases flashbacks to how Cage's powers originated while he was experimented on in prison, along with the return of Claire Temple (Rosario Dawson), who also appeared in Jessica Jones (as well as Netflix's other Marvel series, Daredevil). 
"Sometimes, if you want justice, you have to get it yourself," she tells Cage. 
Luke Cage arrives on Netflix on Sept. 30. Watch the trailer below.