Seddique Mateen, Father of Orlando Mass Shooter, Sat Front Row at Hillary Clinton Rally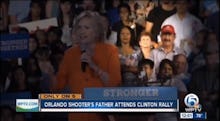 Seddique Mateen, the father of Pulse nightclub shooter Omar Mateen, was spotted in the front row of a Hillary Clinton rally in Kissimmee, Florida, Monday evening, and later voiced his support for the Democratic presidential candidate — which caused conservatives on Twitter to melt down. 
In the video shot by WPTV, Seddique Mateen can be seen in the stands behind Clinton wearing a red hat, at some points recording on a cell phone. The rally was held just south of Orlando, where Omar Mateen killed 49 people at the gay nightclub in June.
Clinton opened her speech by paying tribute to the victims of the massacre, an irony many conservatives on Twitter picked up on and used as an opportunity to attack Clinton and her policies. 
Republican presidential nominee Donald Trump often accuses Clinton of being soft on "radical Islam" and even blamed her for the inception of the Islamic State group, also known as ISIS.
When approached by WPTV reporter Tory Dunnan sometime after the rally, Seddique Mateen said, "Clinton is good for the United States, versus Donald Trump," and pulled out a sign he was carrying in support of Clinton.
Seddique Mateen said he was invited to the rally by the Democratic party, though it was not a personal invitation, as he is a member of the party.
In a statement to ABC, the Clinton campaign said Seddique Mateen wasn't an invited guest.
"I wish that my son had joined the Army and fought ISIS and destroyed ISIS. That would be much better," Seddique Mateen told Dunnan when asked how he felt about coming to a rally so close to where his son killed 49 people.
"I love the United States," he said. "And I've been living here for a long time."
After the shooting, Mic reported CBS News quoted Seddique Mateen as saying, "God will punish those involved in homosexuality," in a video. He also reportedly expressed pro-Taliban leanings during broadcasts on a California-based satellite TV program.
Omar Mateen was allegedly homophobic; after the shooting, his father said his son once became enraged after seeing two men kissing in Miami.