Katie Ledecky's College, Age, Family and Other Facts to Know About Olympic Gold Medalist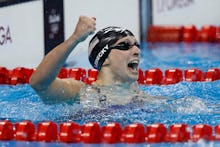 Though she's only 19, U.S. Olympic swimmer Katie Ledecky has already become one of the standout athletes of the 2016 Games. On Sunday, the Bethesda, Maryland, native smashed her own world record when she won the gold medal in the 400-meter freestyle, finishing so far ahead of the competition that she was already celebrating before the silver medal winner had even reached the wall.
Ledecky could easily take home more gold medals in Rio, so here's what you should know about the Olympic superstar for the weeks ahead.
1. Her mother was also a swimmer.
Katie Ledecky's mother, Mary Gen, was also a freestyler. Gen, who grew up in North Dakota, swam for the University of New Mexico, the New York Times reported, and passed on her love of the sport to her children.
2. She first went to the Olympics at 15.
Katie Ledecky's first Olympics were the 2012 summer games in London. She was only 15, but she won gold in the 800-meter freestyle in a stunning performance.
3. She's going to Stanford.
Ledecky will start her freshman year at Stanford this September. According to the San Francisco Chronicle, she deferred her enrollment by a year to give her time to train for Rio.
4. She first met Michael Phelps when she was 6.
Before he was her Olympic teammate, swimming superstar Michael Phelps was one of Ledecky's idols. Ledecky first met Phelps when she was only 6, coming up to him in a parking lot after one of his meets at the University of Maryland, the Washington Post reported in 2012.
5. She made the Time 100 list this year.
Ledecky was the youngest person on Time's 100 list in 2016. Her blurb was written by swimming legend Janet Evans.