New Beyoncé Snippet Allegedly Surfaces — And the Internet Loses All Chill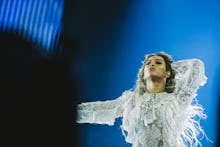 Just three months and change after Beyoncé dropped Lemonade and slayed fans across the world, the Queen may already be working on new music. 
Boots, a longtime Bey collaborator, posted an extremely short snippet of what is unmistakably the queen's angelic vocals in an Instagram story.
Although it's only a solid four seconds of what could be a Beyoncé single, or a feature, or a bonus track for a deluxe edition of Lemonade, Queen Bey's loyal BeyHive legion was absolutely living for it. 
However, the video lived on Boots' Instagram for only a brief window before he deleted it. Other videos with non-descriptive background beats remained. Of course, Twitter had the receipts. 
Whether Boots was trying to slyly hint at an imminent Bey drop, or if he added the video by mistake without realizing what he was listening to remains unclear. But as fans immediately began dissecting the video, Boots added another layer to the mystery, Instagramming a screenshot of a FaceTime conversation with the screen zeroed in on each person's eyeball. 
It's difficult to tell whose eyeball it actually framed, but the thought of it being Bey's all-seeing eye had Twitter spinning out wild theories.
Who knows what will become of Boots and this mystery Beyoncé vocal. But one thing is for sure: We are absolutely ready for whatever this might be. Just please, dear God, do not start livestreaming a construction project, Bey.