2016 Election Polls: Hillary Clinton Is Crushing Donald Trump in Almost Every Metric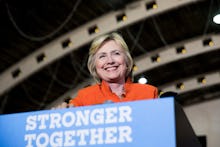 Hillary Clinton is trouncing Donald Trump by a margin of 10 points, according to the latest NBC News/SuveyMonkey poll. It's the largest spread, in favor of either candidate, since NBC began comparing the candidates in May.
Before the Democratic National Convention last month, Clinton led Trump by the slightest of margins. But after the convention, and its battery of powerful speeches, Clinton shot into the lead with a bounce that has yet to deflate.
It's thought that general polls conducted during the conventions don't really matter, as passions tend to ebb and flow over the course of events. It's after the conventions that they'll start to show real results. And now, roughly two weeks after the DNC ended, the polls show Clinton up — way up. And it doesn't look like that's going away.
Some contend that pollsters are reporting ultra-biased polls, overloaded with Democrats to make it appear that Clinton is beating Trump badly. But as Five Thirty Eight reported, that's not what's happening here. Clinton is beating Trump and it's not a conspiracy.
No, polls don't mean a sure bet for the presidency. But there's no denying that, with the party conventions in the past, a racist airhorn is a two-digit margin behind first place.