Usain Bolt Net Worth, Top Speed and 3 Other Facts to Know About the World's Fastest Man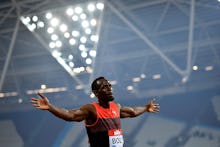 Usain Bolt had a long journey before becoming the fastest man in the world.
The three-time Olympian was born into a poor family in 1986, according to British author Ian Thomson. Bolt hails from Sherwood Content, Jamaica, a rural village about three and a half hours away from Kingston, where limited running water and dusty roads were the norm. In his poverty-stricken hometown, his parents were owners of a grocery store that sold cigarettes and rum. 
Now, the Jamaican sprinter is paving a new way forward for Jamaica. Bolt will be competing in the 2016 Rio Olympics in the 100-meter, 200-meter and 4x100-meter relay. He found his love for athletics in cricket, but will be making headlines as millions of people around the world cheer his name while he makes his final laps before his 2017 retirement.
Here are five facts to know about Usain Bolt.
It's not easy being the fastest man in the world, but it sure does pay.
Bolt raked in about $32.5 million in 2016, according to Forbes. Bolt is one of the 100 highest paid athletes in the world, but didn't make his fortune by just being an international track star. In 2016, his salary earnings and winnings as a track sprinter was only $2.5 million.
Most of Bolt's wealth comes from endorsement deals from big-time companies, like Puma and Visa, pooling in about $30 million for the athlete. 
Bolt holds the world record in the 100-meter dash.
Bolt shook the world when he smashed the world record in the 100-meter dash at the 2009 World Championships in Athletics in Berlin — and it took less than 10 seconds. Standing tall among his competition, Bolt didn't hold anything back for 9.58 seconds. The world record before that was also set by him when he clocked in at 9.69 at the 2008 Olympics in Beijing — with his shoe untied.
Chicken nuggets are his pre-race meal.
Bolt really loves chicken nuggets. At the 2008 Beijing Olympics, Bolt ate 100 chicken nuggets a day, according to Time. Throughout his stay at the Olympic village, he ate a total of 1,000 nuggets which is about 47,000 calories. Bolt also won three gold medals. 
"At first I ate a box of 20 for lunch, then another for dinner," he wrote in his 2014 autobiography Faster Than Lightning: My Autobiography. "The next day I had two boxes for breakfast, one for lunch and then another couple in the evening. I even grabbed some fries and an apple pie to go with it."
Bolt gives back through the Usain Bolt Foundation.
The Usain Bolt Foundation aims to invoke positive social change through education, development and sports participation. The foundation has provided funds toward the $4 million that was needed to renovate a health center in Sherwood Content, Jamaica. In 2012, Bolt's foundation also bought and donated mathematics software licenses to Jamaican high schools. And in 2015, Bolt made headlines when he donated $1.3 million and sports equipment to his old high school, William Knibb Memorial.
The Jamaican sprinter wants to retire next year.
Bolt is likely to retire after the 2017 World Championships in London, International Business Times reported. 
"I'm just trying to close it out as best as possible," he said.