Lilly King Finger Wagging: 5 IRL Situations This GIF Could Help You Overcome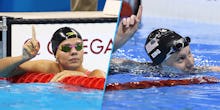 Lilly King is an invaluable member of team USA because of her boss swimming abilities, yes — but also because she's a master of shade. As evidence, please see her targeting of Russian rival Yulia Efimova, a swimmer involved in Russia's recent doping scandal, which has given us some of the most sharable content of these 2016 Olympics thus far. (Michael Phelps is giving King a run for her money, though.)
Efimova tested positive for steroids in 2013 and was subsequently banned for 16 months. Earlier this year, she tested positive for meldonium, leading to another ban that meant she wouldn't swim at the Rio Olympics. 
But she appealed that decision and was allowed back in just before the games began, to the chagrin of audience members who booed her race on Sunday. Efimova raised her finger after winning her 100-meter breaststroke semifinal, as if to say, "I'm number one." 
Backstage, King was watching, and she raised her finger right back, wagging it at Efimova with an artfulness that would make Dikembe Mutumbo proud. 
Then, in her own qualifying heat, King kicked ass, grabbed first place and hoisted that finger again. It was on. 
"You're shaking your finger 'No. 1' and you've been caught for drug cheating," King later said. "I'm not a fan."
King beat Efimova in the 100-meter breaststroke on Monday night. Afterward, she told NBC, "There is a way to become the best and do it the right way."
The right way to become the best is arguably by becoming a viral sensation, which is what King inadvertently did. And now we have the potential for a GIF so versatile, so applicable to such a broad array of scenarios that it's worth the International Olympic Committee lifting the ban on Olympic GIFs for the dissemination of this moment alone.
Just imagine the possibilities!
Mansplaining
Say you are an Olympic cyclist, for example: If a random man of the internet attempts to mansplain to you how biking works, you may use this helpful GIF. 
Racist trolling
If Twitter racists have bullied you so aggressively that the app updated its harassment rules, and then later you live tweet the Olympics so effectively that NBC invites you to attend the games, then congratulations. There is a GIF for you.
Sartorial shaming
When you are a woman and temperatures are high but you have a job to do, so you wear a skirt and the internet jumps all over you for it without noticing the short shorts on your male colleague, hit the haters with this GIF.
Sexism
If you work hard and swim fast and earn yourself an Olympic medal and the press promptly credits your success to your husband, or if they forget your name, but remember your husband's while attempting to shout out your gold medal performance, finger wag along with Lilly King. 
And when all else fails...
... you could always just #PhelpsFace.