Burger King's New Whopperrito Is Actually Healthier Than a Whopper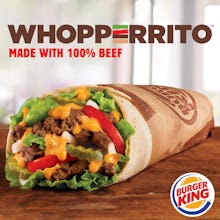 Burger King has had a busy year.
First came its chicken rings, then deep-fried macaroni and cheese bites and now comes the burrito-burger hybrid, the Whopperrito, Fortune reported. 
While the Franken-food sounds like it would be a nutritional disaster, the Whopperrito is actually somewhat healthier than the chain's famed Whopper. 
The Whopperrito has many of the same ingredients as a Whopper, according to a press release, including the burger's flame-grilled beef, tomatoes, onions, lettuce and pickles.
The differences lie in the sauce and bread: While the Whopper features mayo, the burrito comes with a creamy queso sauce (to give it an "authentic Tex-Mex flavor," the press release noted). As for making it portable, the Whopperrito swaps a classic hamburger bun for a flour tortilla.
_____________________________________________
Read more: 
These changes are enough to dramatically slash the calories and fat content in the chain's newest stunt food:
The burrito hybrid has 570 calories, a Burger King spokesperson said in an email, while the Whopper with cheese comes in at 710 calories. That is a difference of about 140 calories, or the caloric equivalent of an order of onion rings from the value menu. The Whopperrito also has 19 grams fewer fat than the Whopper (26 grams compared to 45 grams) and 50 fewer milligrams of sodium. 
Of course, this is not to say that the Whopperrito is a health food. One Whopperrito accounts of nearly half of the daily recommended sodium consumption limit. Still, both the Whopper and Whopperrito appear like diet foods compared to Outback Steakhouse's Loaded Bloom, which is packed with 2,360 calories and a whopping 224 grams of fat. 
Need to have it? The Whopperrito is available for a limited time at Burger King locations across the country starting Monday.