5 Things to Know About Cate and Bronte Campbell, Sisters and Olympic Swimmers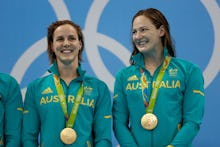 Venus and Serena Williams aren't the only set of sisters at the 2016 Rio Olympics. Cate and Bronte Campbell, both swimming for Australia, are another sibling duo. Cate, 24, made her Olympics debut at the 2008 Games in Beijing, where she won two bronze medals. Bronte, 22, started her career in the junior leagues in 2009, eventually competing in the 2012 Olympics in London.
The pair were on the four-woman team who won gold in the 4x100 freestyle relay on Aug. 6. 
The Campbell sisters may end up battling it out for another gold medal in the Rio games. Still, the Campbells don't feel like they're competing directly against each other — perhaps unlike other sets of siblings who play the same sport.
"It's very different [than] Venus and Serena because we're not playing against each other on the tennis court," Bronte Campbell told the Associated Press. "We're swimming in a swimming pool against six other people in the race. I'm not really racing against Cate. I'm racing against myself and trying to do my best race."
Here are a few things to know about the Campbell sisters as  the 2016 Rio Olympics continue. 
1. Neither Cate nor Bronte was born in Australia. While Cate and Bronte represent Australia, they were both born in Blantyre, Malawi. The sisters moved to Brisbane, Australia when Cate was 9 and Bronte was 7.  
2. Cate dominated swimming in Australia for two years straight. Cate was named the Pacific Rim Swimmer of the Year in 2013 and 2014. She won seven gold medals and four silver medals in that two-year span.
3. Cate and Bronte have appeared on the cover of a fashion magazine. Both Cate and Bronte appeared on the cover of the Daily Telegraph's Sunday Style magazine in February.
4. Cate will not use social media during the Olympic games. While Bronte has taken to Instagram since the Olympics started, Cate has stated that she will stay off social media for the duration of the games. 
"Had a cracking time in Auburn... next stop Rio!! Just a little side note, I'll be taking a break from social media from now until I've finished competing, but your support is appreciated none the less," Campbell said on her Instagram page.
5. Cate and Bronte are inspired by their brother. The sisters told the Sydney Morning Herald in 2014 that they find inspiration in their younger brother Hamish, who has cerebral palsy. Hamish requires 24-hour care and is unable to speak. 
''Whenever we think that our lives are getting too hard, we look over at him and he can't feed himself, he can't clothe himself, he can't go to the toilet by himself, he can't tell us when he's thirsty or he's hungry, he can't see and you think, 'You know what? My life is pretty good','' Cate told the Sydney Morning Herald.