This Man's Wife Couldn't Go On Their Honeymoon — So He Traveled With a Photo of Her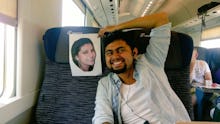 They say absence makes the heart grow fonder. But that cliche was never supposed to apply to newlyweds on their honeymoon. 
This week, Indian photographer Faizan Patel is live-tweeting his solo honeymoon in Europe after his wife misplaced her passport and couldn't get a visa. He already misses his wife so much that he decided to take a photo of her face along for the ride. 
Patel was crushed when he first discovered his wife was unable to procure a visa to go on their honeymoon. They originally planned to travel with another couple on a joint vacation. "We both planned the honeymoon trip together," he told Mic in a private Twitter message. 
The trip started in Italy, where Patel (and a photo of his wife) indulged in pasta, octopus and mussels. He's now traveling as a third wheel with two married friends.
Patel's social media posts quickly went viral, prompting Indian Minister of External Affairs Sushma Swaraj to step in. Swaraj tweeted she would personally help Patel's wife join him in Italy. 
"My wife got her passport issued within two hours and now she has an appointment tomorrow with the embassy," Patel said. 
Patel isn't the first solo honeymoon traveler to go viral after their partner encountered visa trouble. Earlier this summer, Pakastani bride Huma Mobin went on her honeymoon with her in-laws after her groom's visa application was rejected. 
Instead of letting their money go to waste, Mobin and Patel decided to use their honeymoons as an opportunity to have fun on their own instead. Talk about #RelationshipGoals.