This Woman's Hilarious "Romantic" Photoshoot With a Job Offer Is Everything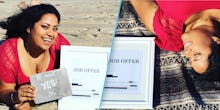 If you're even vaguely active on social media, your feed is likely always filling up with perfectly posed engagement photos of couples you know holding cutesy signs and jumping into each other's arms on the beach — but 37-year-old Benita Abraham turned that tradition on its head by posting a romantic photoshoot with her new job offer.
On Sunday, Abraham uploaded an album to her Facebook page showing her posing with an offer letter — there she was holding it in her arms on the beach, and celebrating their journey together from phone interview to final offer.
"So excited to share my happy news with my FB family," Abraham wrote in the post. "I finally found my soulmate, my perfect match, my boo. After 7 long months, I found the perfect job with a company that truly cares about its employees and one I will learn so much from."
Abraham said that after seven months of unemployment, she wanted to celebrate the new job in a big way, WGN reported.
Abraham's photoshoot may be hilarious, but it also points out something important — engagement photoshoots and weddings and birth announcements make it easy to publicly celebrate personal milestones, but not everyone has or wants those things. How do we also celebrate professional milestones and other awesome news that's fun to share with friends and family?
Maybe Abraham will make the job offer photoshoot a new social media tradition — her post has already been shared thousands of times on Facebook.