Actress Diana Oh Reminds Us That Asians Aren't Magicians in a Spunky PSA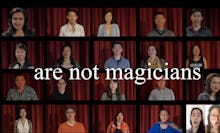 "Where are you really from?" is a common ignorant question other people often ask Asians. Now, a group of artists are telling people to stop being ridiculous.
Playwright Diana Oh wrote and directed a video titled "Asians Aren't Magicians" in collaboration with over 20 Asian artists to make one point: Stop it with your Asian stereotypes.
They are also calling out people for singling out Asians for their skin color.
"Asian people do not have to magically answer the question of 'where are you from?'" said one man in the punchy public service announcement. "Asian people do not magically enjoy being asked this question. Asian people do not magically enjoy being singled out by the color of their skin this way. Asian people are not magicians."
They also want people to stop forcefully practicing their elementary Japanese with them. 
"Asian people often don't like it when one tries to bond with them by speaking in their 'native' Asian tongue," a woman in the film said. "Asian people don't magically like pandering treatment like this."
Watch the whole video here: