Who Is The Rock Talking About in His Angry Instagram Post? Hint: His Word Choice Is a Clue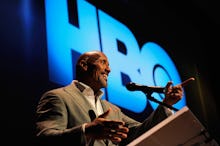 Dwayne "The Rock" Johnson's wrath is fittingly fast and furious. 
The actor, who finishes shooting for the eighth film in the Fast and Furious franchise, Fast 8, this week, took to Instagram on Monday to call out some of the male cast members for not being "true professionals." 
"Some conduct themselves as stand up men and true professionals, while others don't," Johnson wrote in the caption. "The ones that don't are too chicken shit to do anything about it anyway. Candy asses. When you watch this movie next April and it seems like I'm not acting in some of these scenes and my blood is legit boiling — you're right." 
The Fast and Furious movies are notably packed with stars, meaning there are plenty of potential "candy asses," including new additions like Game of Thrones' Kristofer Hivju and Tokyo Drift alum Lucas Black. There's also a franchise vet like Vin Diesel to consider. The women of Fast 8, like newcomers Helen Mirren and Charlize Theron, were "always amazing," said Johnson. 
But is there any way to know who Johnson is actually referring to? As it turns out, "candy ass" isn't just hilarious phrasing — it's a pretty strong suggestion as to which cast mate he's calling out. 
In a post on the incident, Complex pointed to Esquire's profile of Fast 8 newbie Scott Eastwood and his father, renowned actor and director Clint Eastwood. In the profile, Scott uses the term "candy ass" when talking about politics.
Esquire: Clint, do you still describe yourself as a libertarian?
Esquire: Politically, you're the Anti-Pussy party?
Charming.
Given the controversial nature of Esquire's interview, it's easy to see how the younger Eastwood's antics could've irked Johnson on set. Scott even described some differences from the other cast members in the profile:
I remember something he told me early on. I don't remember how old I was when you told me this, Dad. But you said, "As an actor, I never went back to my trailer. I always hung out on set and learned." That stuck with me. I'm on this Fast and the Furious movie right now, and everyone goes back to their trailer. I stick around and say, "Why you are setting up the shot like this?" I want to learn.
If things were as tense as this indicates, it's no wonder Johnson's blood was left boiling.