Missouri Waiter Gets Anti-Gay Note Instead of a Tip Because People Are Trash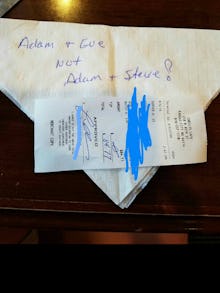 Tipping usually includes upward of 20% of the final cost of your bill and zero percent of your personal opinion. 
That wasn't the case for Kansas City, Missouri, waiter Eduardo Cabrera, who didn't get a tip from a Chelly's Cafe patron but instead received a note that said, "Adam and Eve, not Adam and Steve." 
According to LGBTQ Nation, Cabrera, who is from Guatemala, didn't understand the meaning of the phrase at first, but when his coworker Jonathan Antle explained it to him, he almost began to cry. 
Antle posted the note to social media. 
"You know how I feel because I don't fit in Kansas City," Cabrera wrote in a comment on the Facebook post. "Like with people and guys in general. And I get depressed a lot." 
"This is his livelihood, and they treated him like dirt the entire time," Antle said to LGBTQ Nation. "They just took food off of his table instead of treating him with basic human decency."
After Antle posted the note on social media, people began decrying the hate the woman showed Cabrera. Cabrera also expressed his thanks for so many people sending him messages of love. 
"Thank you guys so much," Cabrera wrote. "I was thinking I'm alone here. But now I see there is a different Kansas City! There is hope out there. There are good people. There is love!" 
Then, something unexpected happened: A person who said she was not the person who left the note, but was with the woman who wrote it, apologized. 
"From the bottom of my heart, I am sorry," the woman wrote. "Even though I'm not the one who wrote it, I can't do anything but take full responsibility for it because my credit card was used and I was with the person who did it." 
People applauded the apology. 
Cabrera later posted a picture showing that Metropolitan Community Church, a nationwide LGBT nondenominational church, sent him tip money after the customer stiffed him.