Snapchat's Newest Filter Has Twitter Users Crying Racism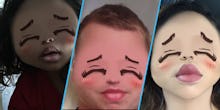 Snapchat filters have the potential to do good — who among us doesn't look better wearing a virtual flower crown, or as a dog? But on Tuesday, some Twitter users were calling out the photo- and video-sharing platform for a new filter appearing to riff on a racist Asian caricature. 
Twitter user @tequilafunrise was among the first to point out the filter's dubiousness, asking Snapchat, "Wanna tell me why you thought this yellowface was ok??"
Other Twitter users shared their own selfies, agreeing that the filter, without a doubt, was racist. 
One person even called it the "most overly racist filter ever," wondering — if the app's creators have deemed this most recent release acceptable — when Snapchat users might "expect blackface."  
According to the court of public opinion, the hypothetical "blackface" to which user @bkisnah alludes has already come to fruition. On April 20th, known, of course, as 420, a veritable holiday for weed smokers, Snapchat released a Bob Marley filter outfitting users with dreadlocks, a rastacap and what some called "digital blackface."
At the time, Snapchat reps told CNN in a statement, "Millions of Snapchatters have enjoyed Bob Marley's music, and we respect his life and achievements.[The lens] gives people a new way to share their appreciation for Bob Marley and his music."
In light of the platform's newest filter, Twitter user @mhroque reminded Snapchat of its community standards. Falling under the category of "harassment, bullying or spamming" is the rule: "Do not bother or make other people feel bad on purpose."
On Wednesday, Snapchat told the Verge the filter was "inspired by anime, and was meant to be playful," but removed it from the app for good.
Aug. 10, 2:59 p.m. Eastern: This story has been updated.