Burkini Day Event at French Waterpark Cancelled Amid Barrage of Criticism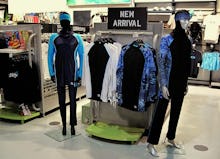 When a "burkini"-only day at a French waterpark was announced in early August, people absolutely lost it. On Tuesday, the event was cancelled. 
"We are sad and concerned to attend the outpouring of racist hate, of vulgarities and threats of which we are the target, as an association, but also individually," read a Facebook post from women's nonprofit Smile 13, the organizers behind the Burkini Day event.
The Facebook post went on to note that "between the insults, the incessant demands of journalists and the death threats that have targeted members of the team, which a person has received, by mail, a personal letter contained bullets from gun, the situation has become surreal." 
Smile 13 scheduled Burkini Day for September at the Speedway Park near Marseille; for one day, only women wearing the full-coverage swim garment — as the name suggests, the intersection of a bathing suit and a burqa — and small children would be allowed to enter the waterpark. 
CNN reported that a (now deleted) Facebook post from Smile 13 explained that burkinis were intended to make women less tempting to men. "Women wandering around in bikinis are more at risk for rape that's for sure," read the statement, according to CNN. 
In France, it is illegal to wear a burqa in public; Burkini Day, however, would've been a private event. It was the overwhelming criticism that poured in from all sides that ultimately led Smile 13 to pull the plug on the event.
"Accepting this so-called fashion means we accept communalism in our country," Valerie Boyer, a center-right French politician, said, according to the BBC. "However, it's also a question of the woman's dignity, a question of our most fundamental principles."
Then there were the tweets:
And then, there were those alleged death threats. Faced with a barrage of criticism, the venue backed out: "Neither SpeedWater Park [n]or the [commune] of Pennes-Mirabeau want to ... disturb public order caused by issues beyond their territories," read a statement from the park, according to BBC.