Why the 'American Horror Story' Season 6 Theme Will Remain a Mystery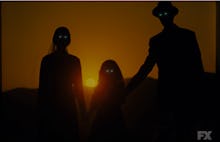 After extended radio silence with about a month until the season six premiere of FX's anthology series, American Horror Story, the show dropped hints as to its theme in some nonspecific teasers released in July. However, between a solitary farmhouse, a demonic baby crib and a creepy family walking toward the camera at dusk, the teasers didn't seem to have much in common. Turns out, that was intentional. 
According to the Hollywood Reporter, FX CEO John Landgraf revealed at the Television Critics Association's summer press tour Tuesday that the season six teasers were used as careful misdirection ahead of the premiere. 
"Every year, we lay out the themes and the new genre [series creator Ryan Murphy] is going to be approaching; we thought it'd be fun [this year] to keep it a mystery — so we are," he said. 
Landgraf added that, among the several teasers released, one of them is true to the nature of the season six theme, while the others were clever — and visually evocative — distractions. 
"There are many more trailers than you've actually seen for hypothetical seasons of American Horror Story — different genres, different places," he said. 
It's a clever trick, but unfortunately for Landgraf and Murphy, the jig might already be up thanks to a leak earlier this month. Photos released by TMZ on Aug. 1 reportedly show the new season is going to be based in colonial Roanoke, following the "Croatoan" mystery from 1590 where an entire colony disappeared (hey, maybe that's misdirection, too!). 
American Horror Story returns to FX for season six on Sept. 14.