A White Man Called Police to Report "Hoodlums" Before Shooting and Killing a Black Man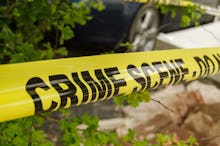 A 39-year-old Raleigh, North Carolina, resident called 911 to report "hoodlums" in his neighborhood on Sunday before fatally shooting Kouren-Rodney Bernard Thomas, a 20-year-old black man who had been attending a party nearby, the Washington Post reported.
Chad Copley called 911 early Sunday morning, telling the dispatcher that "We got a bunch of hoodlums out here racing ... I'm on neighborhood watch ... I am going to have the neighborhood meet these hoodlums out here racing up and down the street. It's one in the morning. There's some devil in them. They have firearms and we're going to secure our neighborhood. If I was you, I would 
Only minutes later, according to the Post, Copley called 911 again to report that "We got somebody that got hit," referring to Thomas, who was later pronounced dead at a local hospital.
Thomas and a friend, David Walker, had been trying to get into a crowded party near Copley's home on Sunday, Walker told the Raleigh News and Observer. When he and Walker saw what they thought were police lights, they began to run; that's when Copley shot Thomas, Walker said.
In his second conversation with 911, Copley claimed that "There's frigging black males outside my frigging house with firearms." Walker told the News and Observer that the party he and Thomas were trying to attend was quiet: "No fighting and no arguing and no one waving guns."
Copley was taken to Wake County Jail and charged with first-degree murder. On a GoFundMe page created by Thomas' family to cover funeral expenses, his mother wrote, "Koury was my baby and I love him. He loves pink and all I want to do is send him off well. He was fun, lovable, caring, just a good guy, and very overprotective of me his mother and other love ones in general."