Did Donald Trump Just Joke About Shooting Hillary Clinton Over Supreme Court Justices?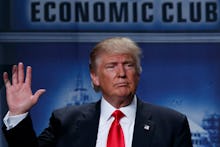 Donald Trump seemingly joked about shooting Hillary Clinton during a speech on Tuesday in North Carolina.
"If she gets to pick her judges —nothing you can do folks," Trump said, referring to Clinton getting to nominate Supreme Court justices if she were elected president. "Although, the Second Amendment, people, maybe there is."
In a statement, Trump's campaign blamed the "dishonest media" for overblowing his remarks.
"It's called the power of unification," Jason Miller, senior communications adviser for Trump's campaign, wrote in an emailed statement. "Second Amendment people have amazing spirit and are tremendously unified, which gives them great political power. And this year, they will be voting in record numbers, and it won't be for Hillary Clinton, it will be for Donald Trump."
However, Clinton campaign manager Robby Mook said in a statement that Trump's comment was "dangerous."
"This is simple — what Trump is saying is dangerous," Mook said in an emailed statement. "A person seeking to be the President of the United States should not suggest violence in any way."
Democratic elected officials also called Trump's comments unacceptable, including Sen. Chris Murphy, who has become one of the loudest gun control advocates in the Senate after his home state of Connecticut was rocked by the Sandy Hook shooting.
American Bridge, a pro-Clinton opposition research outfit, was also quick to charge that Trump was referring to shooting Clinton.
Clinton staffers on Twitter expressed shock at Trump's comments.
"Did Donald Trump... just call for someone to shoot Hillary Clinton?" asked Rob Flaherty, a member of Clinton's rapid response communications team.
Ian Sams, another member of Clinton's communications team, called Trump's comments "unacceptable" and "dangerous."
Han Nguyen, a digital director on the Clinton campaign, called Trump's comments "disturbing."
Celeste Katz contributed to this report.