7 Celebrity Couples Who Are Nailing This Long-Term Relationship Thing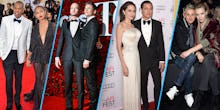 We live in a world where it can sometimes feel like love is dead and nobody stays together anymore. Even couples that we were once so sure would last a lifetime — cough, Ben and Jen, cough, Gavin and Gwen, 'achoo! — have wilted before our very eyes in recent years.
Sometimes things just don't work out; fine.
But lest you start to believe that things never work out, here is a list of seven celebrity couples who have all unlocked the secret to long-lasting romance and survived past the 10-year mark — a pretty big deal, especially in these romantically volatile times. Don't give up on love!
1. The British Lovebirds: David and Victoria Beckham
Years together: 19
Why they make the list: Victoria once said this: "We've got matching dogs, matching watches, similar wardrobes, matching Jags." These are the words of a woman who is clearly in a relationship with her soulmate. 
2. The Teen Dreams: Sarah Michelle Gellar and Freddie Prinze Jr.
Years together: 16
Why they make the list: The look on SMG's face in the above picture pretty much says it all. 
3. The Lovestruck Ladies: Ellen DeGeneres and Portia de Rossi
Years together: 12
Why they make the list: Ellen once dunked Portia into a tank of water on her show, and Portia was chill about the whole thing. The secret to making a relationship last surely isn't all about being chill with dunk tanks, but that's probably a big part of it.
4. The Power Pair: Beyoncé and Jay Z
Years together: 14
Why they make the list: They survived the cheating opus that is Beyoncé's Lemonade. Even Becky with the Good Hair couldn't put an end to their union.
5. The (Literal) Daddies: Neil Patrick Harris and David Burtka
Years together: 10
Why they make the list: This 2012 episode of Oprah's Next Chapter, in which their twin babies cry a lot and it's adorable. 
6. The Unsung Heroes: Enrique Iglesias and Anna Kournikova
Years together: 15
Why they make the list: Because you probably didn't even realize they were still together — and yet they are! Side note: Kournikova's Instagram is a true diamond in the rough. She sometimes posts videos of herself joyously dancing to her man's music and it's v. cute. 
7. The Untouchables: Brangelina
Years together: 11
Why they make the list: They are Brad Pitt and Angelina Jolie. Enough said.