Donald Trump's Second Amendment Comments Are Part of a Long Conservative Tradition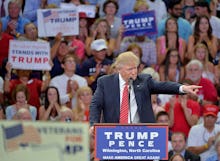 Donald Trump drew condemnation on Tuesday after suggesting that the Second Amendment was a solution to a Hillary Clinton presidency — remarks many critics interpreted as inviting his Democratic opponent's assassination.
While such incitement to violence would mark a new low in the history of modern presidential campaigns — Trump's campaign maintains he merely intended to applaud the "spirit" and "political power" of gun rights supporters — his comments are part of a long conservative tradition that sees the Second Amendment as a bulwark against perceived tyranny from the federal government.
Once associated with fringe activists, the notion that an armed citizenry should assert itself against an encroaching government may now count among its supporters the Republican Party's presidential nominee.
Here's a look at others who have trafficked in the idea.
Jesse Helms
Sen. Jesse Helms of North Carolina, an arch-conservative who represented the Tar Heel State from 1973 to 2003, attracted fierce criticism in 1994 after saying that President Bill Clinton should "watch out" if he visited North Carolina.
Attacking Clinton for his policies on gays in the military and defense spending, Helms said, "Mr. Clinton better watch out if he comes down here. He'd better have a bodyguard."
The senator subsequently called those remarks a "mistake" and "unwise."
Trump's comments about Hillary Clinton on Tuesday came during a campaign rally in Helms' state.
Joni Ernst
Two years before her 2014 election to the United States Senate from Iowa, Joni Ernst declared at a National Rifle Association event that she would use her gun to defend herself against the government if it ever disrespected her rights.
"I have a beautiful little Smith & Wesson, 9 millimeter, and it goes with me virtually everywhere," Ernst said. "But I do believe in the right to carry, and I believe in the right to defend myself and my family — whether it's from an intruder, or whether it's from the government, should they decide that my rights are no longer important."
Trump's campaign vetted Ernst for the vice presidency this year, before settling on Gov. Mike Pence of Indiana.
Sharron Angle
Taking on Senate Democratic leader Harry Reid of Nevada in 2010, Sharron Angle warned that "Second Amendment remedies" could potentially become necessary if Congress did not change its ways.
"I hope that's not where we're going, but, you know, if this Congress keeps going the way it is, people are really looking toward those Second Amendment remedies and saying my goodness what can we do to turn this country around? I'll tell you the first thing we need to do is take Harry Reid out," Angle told a conservative talk show host.
Angle lost the November election to Reid.
G. Gordon Liddy
Convicted Watergate burglar G. Gordon Liddy — who later became a conservative radio host — stunned listeners in 1994 when he urged them to assassinate federal bureaucrats moving to disarm people.
"Well, if the Bureau of Alcohol, Tobacco and Firearms comes to disarm you and they are bearing arms, resist them with arms. Go for a head shot; they're going to be wearing bulletproof vests," Liddy said.
He later amended his remarks to say that such agents should instead be shot twice in the body and then "in the groin area."
Al Baldasaro
Al Baldasaro, a GOP state representative from New Hampshire and Trump's campaign co-chairman in the Granite State, attracted the attention of the U.S. Secret Service last month when he called for Clinton to be shot over her handling of the 2012 Benghazi attacks.
Clinton "should be put in the firing line and shot for treason," Baldasaro declared.
Republican Sen. Kelly Ayotte of New Hampshire condemned Baldasaro's comment, saying, "This kind of rhetoric is totally irresponsible, it has no place in our society, and violence should never be encouraged against anyone."
Not quite a month would elapse before Trump's own remarks. Though far less explicit than Baldasaro's, they come amid a climate of visceral anger and rage from Trump's supporters — sentiments that may well reach a fever pitch if Clinton wins in November, an outcome Trump now asserts would be thanks to fraud.
Roger Stone, a longtime Trump associate, predicted last week that Clinton's election could trigger a "bloodbath," though he claimed it would be nonviolent.
"If you can't have an honest election, nothing else counts," Stone said. "I think he's gotta put them on notice that their inauguration will be a rhetorical, and when I mean civil disobedience, not violence, but it will be a bloodbath ... We will not stand for it."
Trump's comments Tuesday cast those remarks — and the anti-government sentiments his campaign has stoked — in an ominous new light.