2016 Swing State Polls: Clinton Widens Lead Over Trump in Ohio, Iowa and Pennsylvania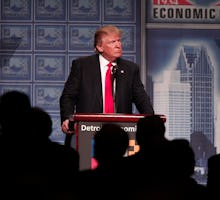 A new spate of swing state polls brought more bad news for Donald Trump on Tuesday, as they have him trailing Hillary Clinton in three must-win states on his quest for the White House.
Trump trails Clinton by 4 points and 5 points respectively in the swing states of Iowa and Ohio, according to a new NBC News/Wall Street Journal/Marist poll released Tuesday.
He's also trailing Clinton by 11 points in Pennsylvania — a traditionally blue state that Trump has said he could win, given his appeal to working-class white workers in the western portion of the state.
Without winning these three states, Trump would have almost no path to winning the White House.
All three have large populations of working-class white voters, which Trump is counting on to overcome his deficits among Hispanic and African-American communities.
The new polling, conducted between Aug. 3 and Aug. 7, represents a major slide from Trump's poll numbers in July, when NBC/WSJ last polled these states, before both parties held their national conventions.
Perhaps the only good news for Trump is that Clinton remains nearly as unpopular as he is in all three states.
In Iowa, 58% of voters view Clinton unfavorably, as opposed to Trump's 64% unfavorable rating in the state.
In Ohio, 60% of voters have a negative view of Clinton, while 62% say the same of Trump.
In Pennsylvania — which is looking like a safe Democratic state according to recent polls — 53% of voters view Clinton unfavorably, while 63% see Trump in a negative light.