US Women's Gymnastics Team Vaults Into History With Gold-Medal Win in Rio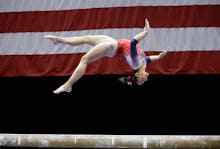 On Tuesday, the U.S. women's gymnastics team — consisting of Simone Biles, Gabby Douglas, Laurie Hernandez, Madison Kocian and Aly Raisman, who revealed their Olympic nickname, the "Final Five," right after their win — seized the gold medal in the all-around gymnastics competition, the second Olympics in a row the team dominated the event.
The U.S. team beat the closest competitor, Russia, by a full eight points — 184.897 to 176.688 — a huge and quite possibly historic margin coming on the heels of qualification events in which the U.S. team also dominated. According to the New York Times, the U.S. routed the competition "by putting up the highest total score in every apparatus," including the vault, bars, balance beam and floor exercise.
"The 8-point gap between the U.S. and second-place Russia was the largest since 1960, when the Soviet Union defeated Czechoslovakia by 8.997 points in Rome," NPR reported.
China, which won the bronze medal, came in just a sliver behind Russia at 176.003.
Coming in behind the U.S., Russia and China were Japan, Great Britain, Germany, the Netherlands and Brazil.