Elizabeth Warren Calls Donald Trump a "Pathetic Coward" Who Can't Stand "Losing to a Girl"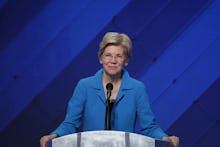 Donald Trump's suggestion Tuesday that the Second Amendment could be a solution to Hillary Clinton's election left much of the political world speechless.
Not Elizabeth Warren.
The Massachusetts senator and inveterate Trump foe tweeted that Trump's remarks revealed him to be a "pathetic coward" and a "two-bit dictator" who "can't handle the fact that he's losing to a girl."
Losing he is: Following a spate of damaging controversies over his attacks on a Gold Star family, his invitation for Russia to hack into U.S. government communications and his dizzying answers on basic foreign policy questions, Trump is trailing Clinton by 7.5 percentage points nationally, according to RealClearPolitics.