'No Man's Sky' PS4 Opening "Initialize" Screen Has Players Confused — How to Get Past It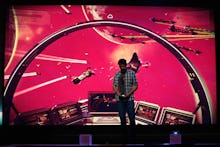 How do you get past the opening screen that says "initialize" on the buzzy new PlayStation 4 game No Man's Sky?
Press square. That's it! It's not a loading screen — you have to actually hit a button to get the game going.
If you're wondering what I'm talking about, some context: No Man's Sky might be the most ambitious game ever created: It lets you, playing as an astronaut, explore 18 quintillion full-size planets — yes, quintillion, and yes, planet-sized planets — that were created by an algorithm. There are an estimated 4 billion hours of gameplay, according to the Guardian. And it's impossible to win.
In short, there's never been a game like it.
"A player will roam for years and never meet another soul," the Guardian describes. "Others may never leave their home planet, instead choosing to chart its terrain, month by month. While it will be possible for players to mine, trade or fight with others, No Man's Sky will also accommodate the lone, nomadic wolf."
But to even start exploring, you have to get past a white screen with a little square icon and the word "initialize." The instruction is confusing some redditors, who flocked to the /r/NoMansSkyTheGame forum to figure out if the game was frozen or what. 
"Been waiting 7 mins, came to reddit, feel mentally challenged now. Thank you so much," one gamer wrote in a thread called "Hold square on initialize," tagged "PSA." Another confessed, "Took me 15 min to figure it out. Told the other folks in the party waiting to hear my first impressions that it was just a long initializing screen. Needless to say I felt pretty dumb when I figured it out."
Let their pain be your gain. Happy gaming!