Muslim Somali-American Woman Scores Historic Win in Democratic Primary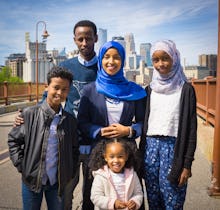 As of late Tuesday night, Ilhan Omar has won the Democratic vote for Minnesota state legislature. If she wins the election in November, she'll become the first Somali-American Muslim woman lawmaker in the United States.
Omar, a Somali activist who currently serves as Director of Policy Initiatives at Women Organizing Women, won the Democratic primary for Minnesota state legislature with 40.95% of the vote, beating out incumbent representative Phyllis Kahn, who has held the seat for 22 terms. District 60B, where Omar lives and will be serving, includes the University of Minnesota and surrounding neighborhoods that host a large population of Somali and East African immigrants.
"I want to congratulate Ilhan Omar for winning the race for district 60B," Mohamud Noor, Omar's other opponent for the primary, wrote in a Facebook post. "The community won today."
Noor's not the only one offering congratulations. After the announcement of Omar's victory, social media went wild.