What to Know About Elina Svitolina, the Olympic Tennis Player Who Defeated Serena Williams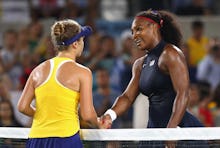 U.S. tennis star Serena Williams is out of the 2016 Rio Olympics after losing a third-round singles match Tuesday to Ukraine's Elina Svitolina. The final score was 6-4, 6-3, according to NBC. 
The upset has been called a "shock defeat." Williams is the top-ranked women's singles player in the world, while Svitolina is ranked 20th. What's more, Williams beat Svitolina the past four times the pair competed against each other, as early as 2012, NBC reported.
In an interview after the match, Svitolina said she couldn't believe she'd won.
Here's what to know about the Ukrainian tennis player who defeated the world's greatest.
The 21-year-old was born in Odessa, and was introduced to tennis at a young age by her family, according to her Women's Tennis Association bio. She went pro in 2010. In 2014, at 19 years old, she was the WTA's highest-ranked teenager, according to Sports Illustrated.
"I don't really measure against other players my age," Svitolina told Sports Illustrated at the time. "I'm just trying to work and play match by match. I'm not really focused on my ranking. Just focused on my game. If you play your game, if you have confidence, the ranking and everything else will come."
Svitolina has won four WTA singles titles: the 2013 Baku Cup; the 2014 Baku Cup; the Grand Prix SAR La Princesse Lalla Meryem in Marrakech in 2015; and the Malaysian Open in 2016. She's also won two doubles titles, at the Istanbul Cup in 2014 and 2015. 
As for superstitions, Svitolina told Sports Illustrated: "I always try to put my shoes on the same way."
Svitolina will face off against the Czech Republic's Petra Kvitova in the women's singles quarterfinals on Aug. 10.