Bernice King, Daughter of Martin Luther King, Jr, Reacts to Trump's Assassination Joke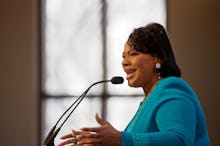 In a Tuesday speech, Donald Trump seemed to joke about assassinating his rival, Hillary Clinton. The unsettling line about the Second Amendment delighted Trump's racist, bigoted supporters — but for Bernice King, daughter of Martin Luther King, Jr., the comment was sickening.
"As the daughter of a leader who was assassinated, I find #Trump's comments distasteful, disturbing, dangerous," King wrote on Twitter.
King's father, the legendary civil rights leader, was assassinated in April, 1968, at age 39.
Trump's seeming allusion to an assassination of Clinton came during a speech in North Carolina. The Republican presidential nominee had been talking about Clinton's potential Supreme Court nominations, should she be elected president. 
"If she gets to pick her judges — nothing you can do folks," Trump said. "Although, the Second Amendment people, maybe there is."
Trump's campaign suggested the "dishonest media" misinterpreted the comment, as Mic reported. 
"It's called the power of unification," Jason Miller, senior communications adviser for Trump's campaign, said in an emailed statement. "Second Amendment people have amazing spirit and are tremendously unified, which gives them great political power. And this year, they will be voting in record numbers, and it won't be for Hillary Clinton, it will be for Donald Trump."
In addition to King, others were also disturbed by the remarks — among them, Chris Murphy, a U.S. senator from Connecticut.
As for Clinton's campaign, they found Trump's comment "dangerous." 
"This is simple — what Trump is saying is dangerous," Clinton campaign manager Robby Mook said in an emailed statement, Mic reported. "A person seeking to be the president of the United States should not suggest violence in any way."