Hillary Clinton Rolls Out New GOP Endorsements, Spelling Trouble for Donald Trump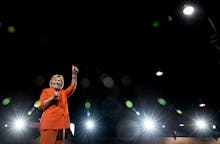 Hillary Clinton rolled out yet another wave of prominent Republican and independent endorsements Wednesday, signaling more trouble for Donald Trump and his flailing presidential ambitions.
The latest GOP defections to Clinton's campaign includes former Reps. Connie Morella of Maryland and Chris Shays of Connecticut; former Commerce Secretary Carlos Gutierrez, who served under President George W. Bush; former Housing and Urban Development Secretary Carla Hills, who served under President Gerald Ford; and John Negroponte, who served as the Director of National Intelligence under George W. Bush.
In total, the list of prominent Republicans and independents endorsing Clinton now totals nearly 50, according to Clinton's campaign.
These defections to Clinton's campaign could provide cover to Republicans and GOP-leaning independents uncomfortable with Trump.
And if more Republicans and Republican-leaning independents back Clinton's campaign, it could cause Trump's already sinking poll numbers to sink further.
Trump currently trails Clinton by an average of 7.7 points, according to RealClearPolitics — a margin that, if held, would lead to an electoral blowout bigger than President Barack Obama's landslide win over Sen. John McCain in 2008.
Trump has seen his support slide in nearly every demographic including among registered Republicans, which should have been the easiest group of voters for Trump to coalesce behind his candidacy.
Clinton has the backing of 94% of Democrats nationally, while Trump has the support of 87% of Republicans, according to a new Bloomberg Politics poll released Wednesday.