Will Smith Blasts Donald Trump's Islamophobia During 'Suicide Squad' Press Tour in Dubai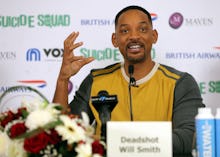 While Will Smith was in Dubai to promote his latest film, Suicide Squad, he spoke out against Republican presidential candidate Donald Trump. Specifically, Smith criticized Trump's proposed plan to temporarily ban Muslims from entering the United States. 
However, while Trump's remarks — most recently he insinuated that Second Amendment supporters could shoot Hillary Clinton — are consistently controversial, Smith sees a silver lining. 
"As painful as it is to hear Donald Trump talk and as embarrassing as it is as an American to hear him talk, I think it's good," Smith said, according to the Associated Press. "We get to know who people are and now we get to cleanse it out of our country." 
In turn, Smith said he wants to show that not all Americans share Trump's views, and sees the film industry as a good lens to demonstrate this. 
"The Middle East can't allow Fox News to be the arbiter of the imagery, you know," Smith said. "So cinema is a huge way to be able to deliver the truth of the soul of a place to a global audience." 
As for the negative critical reaction to Suicide Squad, Smith was similarly diplomatic. He believes, at this point in his career, he's earned the right to fail. Even if, heaven forbid, the failures are as unspeakable as Smith's very worst work. 
"Some of [my movies] will be critically acclaimed, some of them will make money," he said. "And some of them will be Wild Wild West."