Suicide Attack on Pakistani Hospital Wiped Out a Generation of Baluchistan Lawyers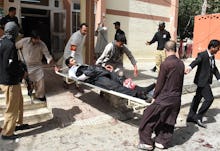 On Monday, lawyers congregated at the Quetta Civil Hospital to mourn the death of their colleague, Baluchistan Bar Association president Bilal Anwar Kasi, who had been fatally shot earlier that day on his commute to work.
However, their somber moment was disrupted by more violence when a suicide bomber detonated explosives in the hospital's emergency room, killing at least 60 and leaving 120 injured.
According to the Washington Post, the blast eliminated an entire generation of Baluchistan's lawyers. 
The Associated Press reported a "breakaway" faction of the Taliban claimed responsibility for the attack, which the Baluchistan chief minister Sanaullah Zehri called especially despicable because "even in times of war, no one attacks a hospital."
But that the attack specifically targeted Baluchistan's lawyers speaks to a larger problem in the western Pakistan city, where violence and corruption reign supreme. "Lawyers are almost all that give the province a semblance of justice," wrote Post reporter Max Bearak. 
In the wake of the tragedy, lawyers from other areas of Pakistan are going on strike, demanding the government do more to protect them.
"Lawyers are relatively more vocal against militancy and they are fighting cases against people accused of terrorism, so it would make sense that they are being targeted," Lahore-based lawyer Ali Malik said, according to the Huffington Post.
He continued, "An attack on lawyers makes a mockery of the law enforcement agencies, it undermines the promises of the state against terrorists and breeds fear among vulnerable citizens."