Ed Sheeran Accused of Stealing "Thinking Out Loud" From Marvin Gaye's "Let's Get It On"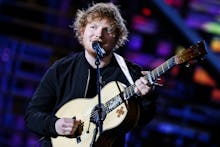 The heirs of the cowriter behind one of soul and R&B's most recognizable tracks, Marvin Gaye's "Let's Get It On," are suing Ed Sheeran for copyright infringement, Rolling Stone reported Tuesday. In the lawsuit, Ed Townsend's family claims Sheeran's single "Thinking Out Loud" lifted several critical features from 1973's No. 1 hit, which Townsend created the musical composition for as well.
"The Defendants copied the 'heart' of 'Let's' and repeated it continuously throughout 'Thinking,'" the lawsuit stated. "The melodic, harmonic, and rhythmic compositions of 'Thinking' are substantially and/or strikingly similar to the drum composition of 'Let's.'"
Whether or not the lawsuit plays out in Towsend's favor could depend on court precedents set from other recent cases surrounding music copyright laws. The Gaye family, who isn't affiliated with filing the current lawsuit, took Robin Thicke and Pharrell to court in March 2015 for copyright claims over their hit "Blurred Lines" and Gaye's 1977 track "Got to Give it Up." The family won the case, proving the artists had infringed on the track's copyright, using both sheet music and studio arrangements as evidence. The artists were forced to pay the family more than $7.3 million. 
But Gaye's music isn't alone: A plethora of classics and recognizable tracks have allegedly been copied by some of music's biggest names. The writers behind Albert Hammond's "The Air That I Breathe" were given writing credits after suing Radiohead for similarities in their groundbreaking single "Creep." Coldplay was sued for using "substantial original portions" of Joe Satriani's "If I Could Fly," though the band settled the case out of court and maintained an agreement allowing them to avoid admitting wrongdoing. Beyoncé gave writing credits to songs that shared similar lyrics and themes for Lemonade, though the Bey's team only discovered the similarities after the fact.
As for Sheeran, it seems possible the case will follow several others and settle out of court rather than enduring a lengthy, public battle as Pharrell and Thicke did in 2015. Not to mention, Sheeran is already dealing with another $20 million copyright lawsuit for "verbatim, note-for-note" similarities found in his song "Photograph" and a track penned by X Factor songwriters Martin Harrington and Thomas Leonard for contestant Matt Cardle, according to their lawsuit.