Refugee Deaths Have Spiked Since Last Year — So Why Have We Stopped Talking About Them?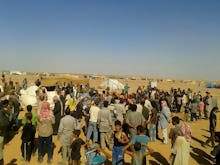 If images of weary migrants washing up on the shores of Lesbos, Greece, in dilapidated black rafts strike you as "so 2015," you're not wrong — and that's the problem. While the flow of asylum seekers into Europe has not subsided, decreased visibility of the crisis is leading many to forget it's still happening.
According to a report by Reuters, many of the migrants have been directed out of the roadside camps — images of which dominated the front pages of 2015 — and into shelters and holding centers. Once there, public awareness of the migrant communities who occupy those facilities dropped off.
But despite decreased visibility, the flow of migrants into Europe has increased.
Citing data from the International Organization for Migration, the report says that 258,186 migrants arrived in Europe from January-July 2016, compared with 219,854 over the same period in 2015 — an increase of nearly 15%.
And yet, thanks in large part to newly forged alliances, like Turkey's much-maligned refugee deal with the European Union, politicians have been increasingly able to sweep the conflict under the rug by passing the buck on who is responsible for dealing with the mess.
"By outsourcing the responsibility to Turkey and to Greece, European governments are basically saying 'we have solved the crisis because we don't see it, and we can't smell it and we can't hear it,'" Gauri van Gulik, deputy Europe director at Amnesty International, told Reuters.
"The crisis is as big as ever, and as yet unsolved by governments," she said.
According to David Milliband, head of the International Rescue Committee, the dangerous conditions that cause many refugees to flee their homes, such as "weak states, big tumults within the Islamic world [and] a divided international system," persist. 
And despite the fact that the variables responsible for the crisis remain, Van Gulik says public agitation for change has largely subsided.
"It's absolutely incredible because if you think about the panic this caused last year and the incentive there was to really get some policy changes in place, nothing has happened," she said.