Stranger Things Soundtrack: Complete List of Songs, Artists From Season 1 of Netflix Show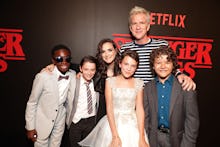 Stranger Things, your new favorite Netflix binge, certainly strays far from the norm. Everything from it's multidimensional storyline to its wavy, '80s techno musical soundtrack make a compelling case the strange and SciFi belong in mainstream TV. 
Now, the show's unique soundtrack will be released as a digital LP to be split into two volumes, Pitchfork reported Wednesday. The first will come Friday, August 12, with a CD coming a month later on Sept. 16. The release date for the second has been set a week later, out digitally August 19 with its CD edition coming Sept. 23.
Fans have praised the Netflix show for using such eccentric, borderline-cheesy-but-incredibly-on-point electric and techno vibes to liven up its scenes.
The music was entirely composed by Survive, a synth-led duo which joined forces with the directors to create a soundtrack that had "a classic tone and feel ... but being reserved enough that it wasn't '80s cheese," the band's Kyle Dixon said in a press release. "This was one of the qualities that drew them to our music in the first place. Having a familiarity with classic synths worked, but with an overall forward thinking approach."
Below are the 36 tracks featured on the first volume of the Stranger Things soundtrack, via Pitchfork:
1. "Stranger Things"
Aug. 11, 2016, 9:45 a.m.: On Thursday morning, S U R V I V E shared a track from the project ahead of its Friday release. Titled "She'll Kill You," it will be available on the digital soundtrack's first volume. Listen here.