Who'll Host the 2024 Olympics? Here Are the Finalists and Why Each One Could Be Chosen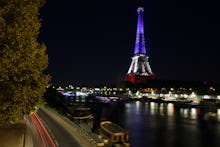 It may only be day five of the 2016 Rio Olympics, but the International Olympic Committee isn't just looking ahead to 2020's Olympic games — which have already found a home in Tokyo — rather, they've already set their sights eight years into the future. 
Last year, the committee had already announced four cities that would be in the running to host the 2024 Summer Olympics. That's right — 2024: a year that presently feels more comfortable nestled in science-fiction than written in our planners.
According to CNN, either Rome, Paris, Budapest or Los Angeles (Hamburg having withdrawn its bid in November) will be named as the winner at the IOC's September 2017 conference in Lima, Peru. 
Rome has leverage for its namesake as the "Eternal City," which resonates with the aspirational spirit of the Olympic games. However, according to CNN, the city had been a contender for the 2020 Summer Olympics and had to withdraw its bid for "economic difficulties" — that could perhaps put a pin in the prospect of Rome hosting the 2024 Olympics, as well.
Should the committee choose Paris, it would mark the third time the French capital has hosted the Olympics, thought its most recent bids in 1992 and 2008 fell through. Though some might expect November's terrorist attacks to deter the IOC and city officials from considering Paris, according to Sports Illustrated, the city is "more determined than ever" to snag the honor.
As of May, Paris had already secured 10 major companies as sponsors, bringing the city closer to its goal of 30 million euros.
According to the Los Angeles Times, Budapest is something of a "dark horse" in the competition; however, the Hungarian capital has already launched a website and logo for the occasion. Explaining the benefits Budapest's status as a smaller city, the site reads, "Budapest 2024 Games will be a genuinely international, bringing Olympic competition within the reach of 90% of Hungary's population in less than 90 minutes."
A 2024 Los Angeles Olympics would mark the first time the United States has hosted the summer games since 28 years, when America hosted the 1996 Olympic Games in Atlanta, Georgia. CNN reported that Los Angeles has an edge over the competition for its promise of sustainability — a major consideration of the IOC — since it could take advantage of existing structures.
"In the new invitation process the IOC learnt that all the candidates are embracing Olympic Agenda 2020 from their respective vision for the future of their city," IOC President Thomas Bach said in a statement reported on by CNN.
"Sustainability and legacy are the cornerstones of each candidature."