Brace Yourself: A New Girl Scouts Cookie Flavor Is Coming to Town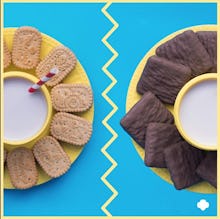 Think it can't get any better than Samoas?  The Girl Scouts of the USA see your caramel coconut cookie and will raise you two different kinds of s'mores-inspired treats. 
On Wednesday, the organization unveiled two variations of cookies for its 2017 lineup. The Girl Scouts S'mores are the first new additions to the brand since 2015, according to a press release. 
One of the S'mores features a crispy graham cookie dipped in icing and coated with chocolate. The second is a graham-based sandwich cookie that hosts marshmallow and chocolate filling. Here's a visual for your drooling pleasure:
These delicacies will be available at the start of Girl Scout Cookie Season, which doesn't kick off until January (at least you can enjoy real campfire S'mores while you wait?). 
_____________________________________________
Read more: 
When the time does come for these cookies to be unleashed to the market, there are a few things you should know. Girl Scout Cookies are available from January through April, but the window can vary because it's up to local councils to decide when sales commence. 
Fortunately, you won't have to physically track down a little Scout to make sure your pantry is stocked: In 2015, the organization launched an online app that enables entrepreneurial scouts to create online accounts through which they can take orders from eager cookie customers. 
But until you hang up that new calendar, you can just continue to imagine how good these new cookies will taste: