Chance the Rapper Premieres New Song "We the People" in Nike Olympics Ad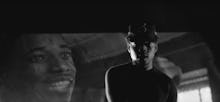 Chance the Rapper loves himself some sports. The Chicago emcee has started to make a habit out of debuting his new songs in athletic contexts. He premiered his latest on Wednesday, a swelling piano ballad called "We the People," in an Olympic-themed Nike ad. 
The song soundtracks a short that Nike has titled Unlimited Together, honoring the United States' Olympic basketball teams, which the company is outfitting. Chance's lyrics seemingly give voice to all the fans attempting to cheer their teams on toward victory. 
"We the people would like you to know," he sings. "That wherever you go, we're right by your side."
"We the People" is Chance's second single to premiere in an athletic context since the release of his avidly praised third mixtape Coloring Book. In July, he performed a song — presumed to be titled "I Was a Rock" — at the most recent ESPYs to honor Muhammad Ali. 
In other Chance-and-sports-related news, the rapper was recently tapped to redesign the Chicago White Sox logo for a limited edition merch release. He also threw out the first pitch for the team back in April. It was far, far better than some other rappers — such as Snoop Dogg and 50 Cent — have done recently.
Watch Chance's "I Was a Rock" ESPYs performance below.