Christian Blogger Pens Tone-Deaf Article on Her Daughter's Interracial Marriage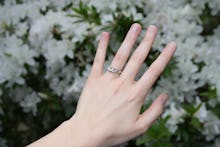 Lord have mercy. A Christian blogger who penned a blog post about coming to terms with her white daughter marrying a black man has been drawing outrage for the thinly veiled racism her post trumpets.
The conceit of the post, which was published on Christian website The Gospel Coalition under the headline, "When God Sends Your White Daughter a Black Husband," seems to have been well-intentioned. 
In the post, Georgia-based freelancer Gaye Clark says that when she prayed for God to send her daughter Anna a husband, she never pictured that he would be a black man with dreadlocks.
But that's exactly what Glenn — an application developer for Blue Cross Blue Shield — was. And although she allegedly has no beef with her daughter's choice in a life partner, Clark's piece goes on to list eight helpful steps for coming to terms with a black man entering your family, which include gems like "remember heaven's demographics."
Clark also writes that Glenn "moved from being a black man to beloved son when I saw his true identity as an image bearer of God, a brother in Christ and a fellow heir to God's promises." 
The sanctimonious blog post was attempted proof of how racially accepting the author is, but in reality tipped the her hand as being the contrary. Unsurprisingly, many readers didn't take too kindly to it:
The blog post was published on a Monday, but by Wednesday Clark had expressed remorse for ever writing it in the first place.
"I have asked TGC to remove my article from their website," she tweeted. "I am profoundly grieved over the hurt and harm it has caused. Would covet prayers."
As the New York Daily News points out, this isn't Clark's first run-in with the P.C. police. In a separate post dedicated to her gay coworker "Mark," she disparaged the man in question for "his emotional preferences and cherished identity as a gay man."