Amber Rose Perfectly Clapped Back After People Made Homophobic Comments About Her Son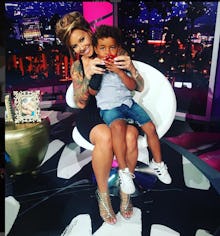 You'd think by now people know not to come for Muva.
After some Instagram users left homophobic comments on a picture of Amber Rose's son, Sebastian, playing around with a wig, Rose made it clear that homophobia won't be tolerated on her wall. 
An Instagram account called TheShadeRoom captured the comments and Rose's response. 
"Wouldn't be surprised if he eventually comes out as gay," user strugglife101 wrote. 
"Smh! He already talks a lil 'sweet'! All bad," user delitoofinedoe wrote.
"Wow you people are so smart, huh?" Rose wrote. "Putting on a wig is gonna make a baby gay? Straight guys, do yourself a favor ... Put on a wig and see if [you're] turned on by another man ... I'll wait. And ladies, seriously grow the fuck up and educate yourselves." 
"Sexual orientation has nothing to do with how people dress."  — Amber Rose
She continued, "Throw one of your wigs on your BF or ur dad. Yay! He's gay! Oh wait ... no, sorry, you're all just fucking idiots. Sexual orientation has nothing to do with how people dress."  
Rose is no stranger to having to shut down negative, harmful conversations. Just add this to her takedowns of slut shaming, body shaming, shaming women's nipples and people who don't understand consent.